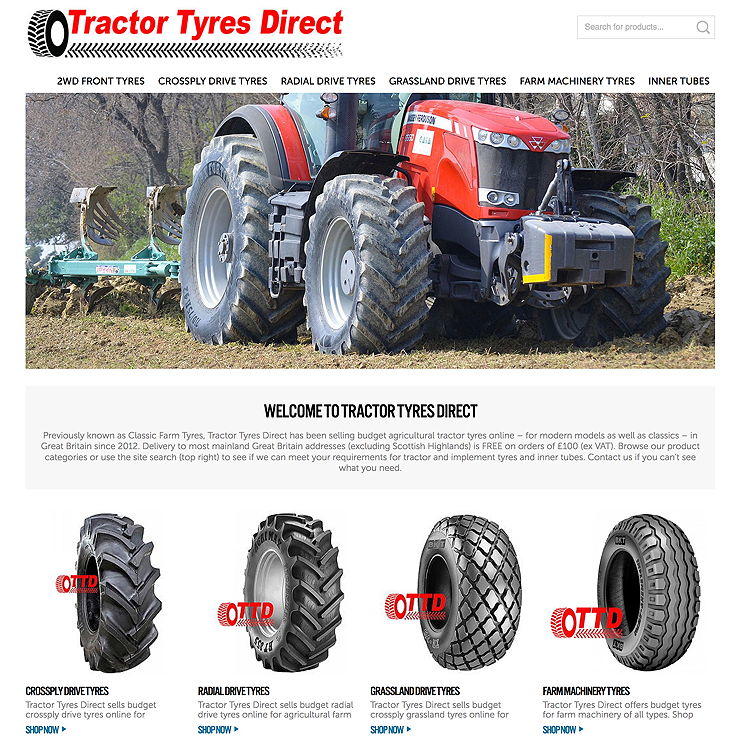 Tractor Tyres Direct has a new website with improved functionality and a new domain name.
We've changed from dot.com to dot.co.uk to better represent our target market of Great Britain (we can offer tyres on the island of Ireland too, but additional carriage charges would apply - ask for a quote by clicking HERE) and our purchase pages now allow you to buy multiple quantities. We have also reintroduced a discounted price if you buy two or more tyres.
The site has changed dramatically since we changed from Classic Farm Tyres to Tractor Tyres Direct in November 2017. This was an attempt to widen the appeal of the site to reinforce the fact we can supply tyres for all tractors - classic and modern.
Unfortunately, this also resulted in our website dropping off the first few pages of Google's search results as we lost what's known as "page authority" - due mainly to us not knowing how Google's search algorithm works!
A little older, and definitely wiser, we're now back offering top-quality tractor and implement tyres at budget prices. Take a look and see if you can find what you need. If you can't, click the "Contact Us" link and get in touch for a quote.
Tractor Tyres Direct has been selling budget agricultural farm tractor tyres online since 2012 for great brands like Case IH, Claas, David Brown, Ferguson, Ford, Fordson, International Harvester, JCB, John Deere, Kubota, Leyland, Massey Ferguson, McCormick, New Holland, Nuffield, Renault, Same, Valtra, and Zetor.